Supporting Health Personnel in Humanitarian Settings
Supporting Health Personnel in Humanitarian Settings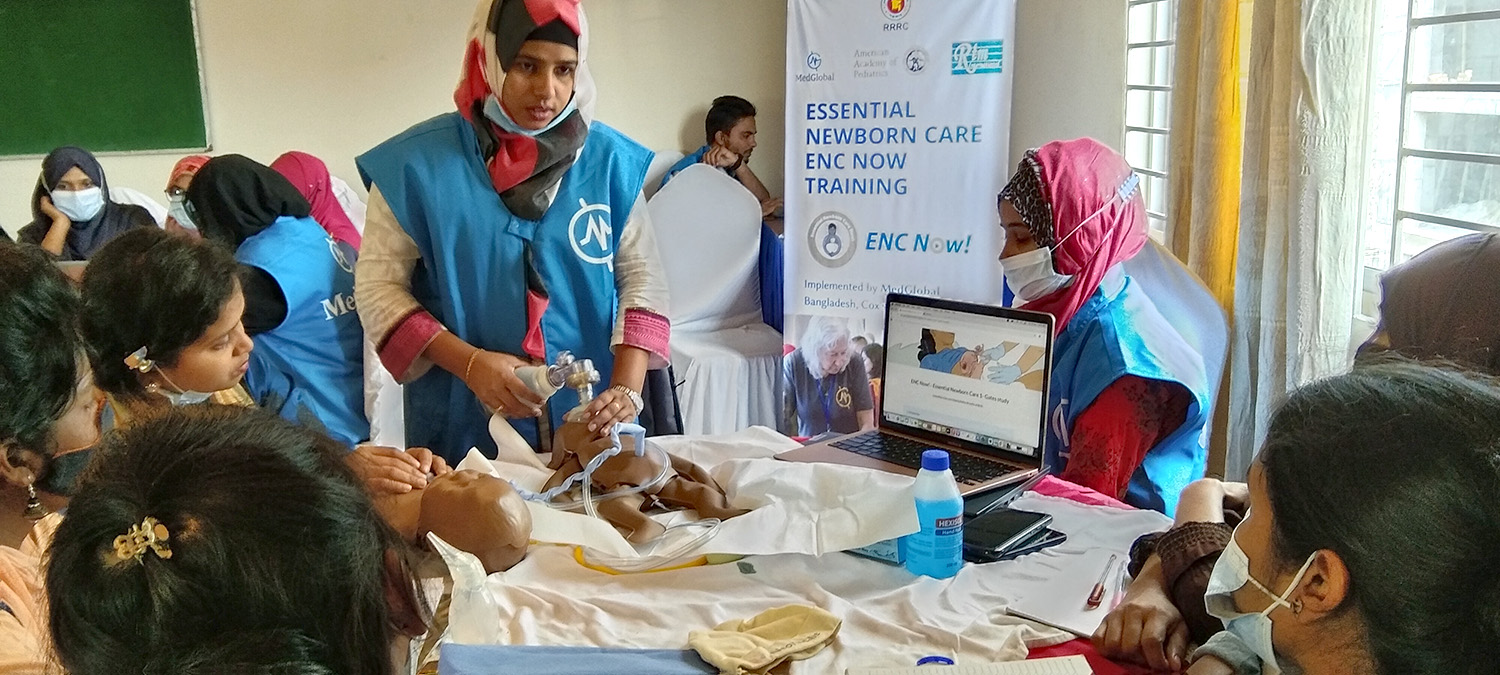 Nearly 30 million babies are born in humanitarian settings, every year
Recent estimates from Save the Children and the World Health Organization indicate the majority of maternal and newborn deaths occur in countries affected by humanitarian crises. To achieve the United Nations Sustainable Development Goal (SDG 3) targets related to improving newborn and maternal mortality, it is critical to improve access to quality care in places where it's needed most.
Globally, countries with UN Humanitarian Appeals account for
Reducing neonatal and maternal deaths in humanitarian settings.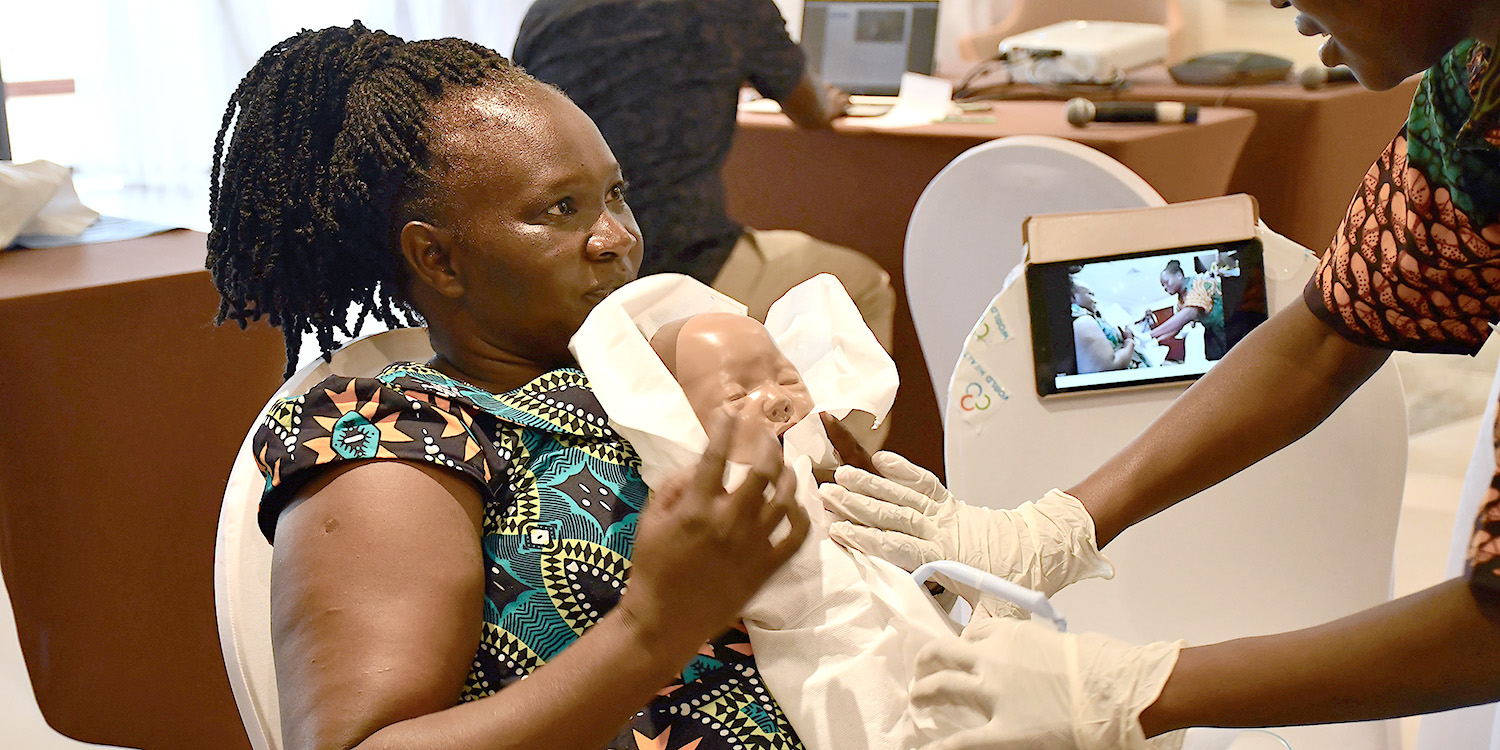 How We Help
Training and equipping healthcare personnel to save lives - remotely
It is often either impossible or inadvisable to travel either to, or within, countries experiencing humanitarian crises. This makes training of healthcare personnel to provide critical care difficult.
Together with the American Academy of Pediatrics (AAP) and Jhpiego, Laerdal Global Health (LGH) developed maternal and newborn training programs that can be used remotely. LGH supports organizations to implement the Helping Mothers and Babies Survive (HMBS) programs, a suite of training modules to ensure competency in basic emergency obstetric and newborn care. The new remote training tools enable access to training for healthcare personnel working in fragile settings.
Remote training allows international or national trainers to train local champions to roll out the programs at their facilities. These tools and learning materials especially facilitate hands-on practice, necessary for skills acquisition and competency development, despite trainers often being remote. The courses are standardized, aligned with global guidelines, require minimal physical space or infrastructure, and are adaptable to unpredictable circumstances.
To learn more visit hmbs.org
Implementation in practice
1st program piloted in Nigeria and Bangladesh (AAP and Save the Children)
The AAP received funding from the Gates Foundation to study implementation of remote training of essential newborn care in Nigeria and Bangladesh. Training was delivered remotely by facilitators. The Essential Newborn Care 1, focused on care immediate after birth including newborn ventilation. Essential Newborn Care 2, focused on care after the first 60 minutes including skin-to-skin Kangaroo Mother Care (KMC) and breastfeeding support. Three Master Trainers in Nigeria and 12 in Bangladesh were trained to be responsible for remote and on-site training of all newborn healthcare personnel at 4 facilities in Nigeria (Yobe, Borno, Nguru) and 13 in Bangladesh (Dhaka and Cox's Bazaar). One hundred twenty-two additional personnel were trained in Nigeria and 108 in Bangladesh.
Implementation led by Red Cross and Red Crescent Movement in Somalia
In Somalia, training was provided to healthcare providers and then cascaded to 40 midwives in 12 facilities in Radar, Jalam, Halabokhad, Galdagob, Bal'ad, Marka, Keysaney, and Taleeh. Training was held remotely by facilitators in Norway, Ethiopia, and the United States. The course was adapted to fit the providers' schedules to ensure no disruption to clinical care.
The program included ENC1, ENC2, and Essential Care for Labor and Birth (ECL&B). After the course, participants continued the rollout in their facilities and conducted subsequent refresher trainings. Ongoing mentorship was provided via the Customized mentoRship and Implementation Support Package (CRISP), a comprehensive solution for translating training into sustained practice. The ambition is to expand to 9 more facilities in the country.
Training was supported by the Norwegian Red Cross (NorCross), the International Federation of Red Cross and Red Crescent Societies (IFRC), the International Committee of Red Cross (ICRC), and the Somalia Red Crescent Society (SRCS).
Local ownership of training in South Sudan (USAID Momentum)
As part of the USAID Momentum project, 20 midwives and doctors were trained in Basic Emergency Obstetric and Newborn Care (BEmONC). These 20 healthcare personnel went on to then train more than 100 providers at their facilities to ensure all births in the districts are supported by an ENC-trained provider.
During the training, the Global Mentors used remote facilitation tools and other open-access learning materials available from hmbs.org including the WHO Essential Newborn Care Course Materials and the new LGH innovation for assessments known as LIFT. LIFT collects data from knowledge and skills checks and helps facilitators collect and analyze important data about individual and group progress. The trainers also receive mentoring remotely over the course of several months in the context of an ongoing, two-way relationship between the Global Mentors and local Facilitators.
"This model was really perfect. It's the future for us . . . the presentations were given by global facilitators, but the ownership was during the breakout sessions where participants are divided into groups and each local facilitator was assigned a group, owning that group."
—Dr. Abraham Thubo, National Facilitator ENC1
South Sudan, Madagascar, Yemen, Democratic Republic of the Congo, Mali, Mauritania, and Nigeria (UNFPA)
Led by the United Nations Population Fund (UNFPA), the project focused on improving clinical skills of frontline healthcare personnel to deliver quality Basic Emergency Obstetric and Newborn Care (BEmONC) and contraceptive services to women and girls affected by humanitarian crises.
The training was attended by 18 participants from South Sudan, Madagascar, Yemen, DRC (Democratic Republic of Congo), Mauritania, Nigeria, Mali, and the Arab States Regional Office. Participants were trained to be Master Trainers and Mentors, responsible for training and mentoring other healthcare providers in their respective countries. The training also includes Vacuum Assisted Birth (VAB). Competency in VAB helps reduce maternal and newborn mortality in settings without access to safe surgery or C-section.
The positive outcomes of this training improved clinical competencies and resulted in a network of people committed to disseminating the program on a larger scale.
Capacity building of midwives in conflict-prone rural provinces in Afghanistan
(IPPF & AFGA)
Funded by the Japan Supplementary Budget (JSB) and implemented by the International Planned Parenthood Federation (IPPF) and Afghan Family Guidance Association (AFGA), 150 midwives were trained to provide lifesaving care through a simulation based digital platform. The project was the first of its kind to employ a midwife-led technology driven intervention. This community-based intervention targeted 10 rural and conflict provinces reaching 45,000 households in the most difficult and unreachable areas of the country.
Laerdal's Buy-One-Gift-One (BOGO) program provided 30 MamaNatalie simulators, 3 MamaBirthies, and MamaBreast. LGH also served as a training partner implementing needs assessments, e-Learning modules, simulation sessions, standardized checklists, and refresher trainings using the low-dose high frequency (LDHF) methodology. The digital platform, SimCapture, was used to provide training and mentoring virtually and analyze data collected from the project.
Standardized courses with Doctors Without Borders
Médecins Sans Frontiers (MSF), also known as Doctors Without Borders, delivers emergency medical care, including emergency obstetric and newborn care, in more than 70 countries in humanitarian crises. In 2022, nearly 300,000 births were attended by MSF staff.
LGH supports training MSF nurses and midwives to become trainers in Essential Newborn Care. The goal is to ensure the national staff is trained and equipped with the competencies to deliver quality care in every mission where maternal and newborn care is provided.