UNICEF establishes new Learning Hub for Maternal and Newborn Health training in Kenya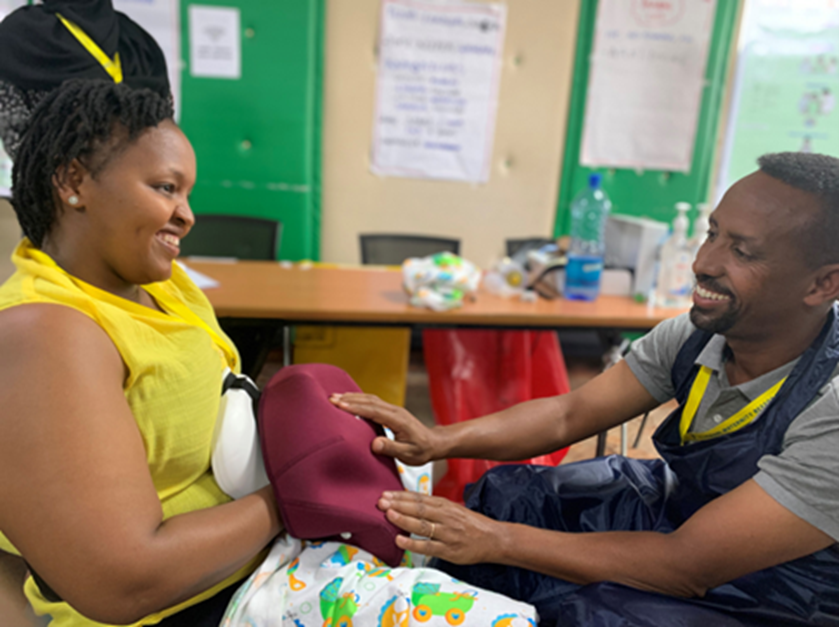 In Eastern and Southern Africa, mortality rates for mothers and newborns are among the highest in the world. To address this, competent and compassionate healthcare providers are essential.
Traditionally, in-service education takes place at off-site workshops and refresher courses that are often located in hotels rather than local health facilities. This requires both time and money, which can present an additional challenge. Moreover, off-site training can impact the ability of healthcare providers to develop their hands-on clinical skills in a relevant and familiar setting.
UNICEF and Laerdal Global Health have partnered to establish sustainable systems and an effective model of training by transforming the referral hospitals into Learning Hubs. This includes training and simulation centers, modeling best practices in the clinical sites, and rolling out catchment area-based mentorship centers so that the healthcare workers have increased competency and are better equipped to provide quality care to mothers and newborns.
First Learning Hub in Kenya
In collaboration with the Ministry of Health of Kenya, UNICEF is spearheading the establishment of on-site Learning Hubs. The Learning Hub will increase the availability of in-service training and mentorship in one of East Africa's largest referral maternity hospitals. Recently, the first regional Training of Trainers took place at the Pumwani Maternity Referral Hospital in Nairobi.
"The educational approach is very unique. It is simulation-based, focused on hands-on practice, it encourages active participation, respectful care and will have a great effect on maternal satisfaction."
UNICEF and Laerdal Global Health facilitated the training of 27 participant s from Kenya, Ethiopia, Eritrea, and Somalia using the Helping Mothers and Survive (HMS), Essential Care for Labor and Birth (ECL&B) programs. These programs provide healthcare workers with the knowledge and skills to improve the quality of care for mothers and newborns during normal birth scenarios including labor, birth, and immediately after. Training in essential care includes comfort and pain relief techniques like breathing and relaxation exercises, position changes, massage, and the use of a birthing ball. These interventions are intended to alleviate discomfort and provide a supportive environment for the mother.
This first Training-of-Trainers also focused on communication and teamwork for problem-solving. The training also provided an opportunity for the training to practice their teaching and simulation assessment skills. Towards the end of the training, participants also developed action plans for their countries and respective health facilities.
In a pre- versus post-knowledge assessment, participants' skills were evaluated using the LIFT assessment tool. Average pre-course performance was 77% compared with 96% post-course.
"The ECL&B training helped me to learn about the importance of respectful maternity care, support, care, and companionship."
The Learning Hub is supported by Latter Day Saints Charities and hosted by UNICEF Kenya. Participants included staff from UNICEF and the Ministries of Health from Kenya, Ethiopia, Somalia, and Eritrea. Currently, the HUB program is being implemented in Kenya and Ethiopia.
UNICEF and Laerdal Global Health have established a global partnership to support the UN's Every Newborn Action Plan, which aims to ensure that every woman and baby survives and thrives.
"A few days after the training, I needed to care for a 17-year-old girl in second stage of labor. She had been in labor for one hour in the lithotomy position, lying on her back with legs elevated. I tried out the squatting position, and after 10 minutes, she gave birth to a healthy baby girl. We have fully embraced the dynamic birthing position."