DOGA Award 2020
2020 is off to a great start! LGH wins top honor for NeoBeat



Last night, at the Norwegian Center for Design and Architecture (DOGA) Awards, Laerdal received both the Design for Excellence Award AND the Honorary Award for Laerdal Global Health's NeoBeat. The DOGA Honorary Award is the highest level of recognition awarded to particularly impressive projects that have received the DOGA Award.
This is the 14th (!) time we have taken home a DOGA award, so you're probably familiar with it by now. But for those who are new to Laerdal, the DOGA awards are the premier design awards in Norway, awarded to projects that provide a significant social, environmental and economic impact. This is the second time we have won the top prize. The first time was for MOYO in 2016. This year, the evaluation committee received 160 applications. Twenty-six received Awards for Design Excellence and 10 were nominated for the highest honor. And we won!

What the jury said
"NeoBeat is the result of a very thorough process. It has everything: It has a well thought out form and function that is innovative in its field. It's easy and intuitive to use, clean, and recharge - and it's designed to last a long time. It also leaves a low environmental footprint. In addition, it has a well thought out financing plan, where higher prices in high-income countries finance the use in low-income countries. We congratulate Laerdal with yet another great product in an already impressive portfolio. The jury has also nominated the project for the DOGA honors mark."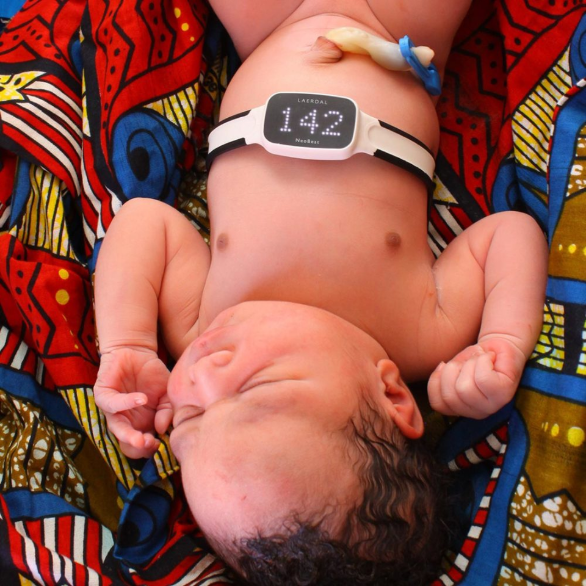 About NeoBeat
Today, 2 million babies around the world die during or shortly after birth. Many of these could have been saved with immediate resuscitation. NeoBeat helps to identify these babies and guides healthcare workers to provide critical care.
Current available methods to monitor heart rate in low-resource settings include stethoscope or umbilical cord palpation, which either require a second pair of hands or interruption in care. With NeoBeat, valuable time can be saved in life-threatening situations by allowing midwives to focus on resuscitation rather than searching for a pulse.

"We've gotten reports of babies who have survived because of NeoBeat simply because the providers thought the baby was dead at delivery, but NeoBeat showed heart activity prompting them to begin resuscitation, saving the baby who otherwise would have been left to die." - Øystein Gomo

Launching this summer, NeoBeat is an affordable, reusable, consumable-free, and easy-to-use heart rate meter that provides an accurate and continuous display of newborn heart rate. It takes just seconds to put on a newborn's abdomen and the instantaneous heart rate can guide neonatal resuscitation to help save more lives.
Innovation based on need
The development of NeoBeat was based on a research project in cooperation with Tanzanian and Norwegian researchers, doctors and midwives. It was made to fill a need that was discovered during this research. Then the product developers were sent to visit the typical user-sites to work with the midwives and doctors and learn how to develop a practical solution.
NeoBeat uses dry electrodes to pick up an ECG-based signal, which is the most reliable way to measure newborn HR. Conventional ECG monitoring equipment is designed to be used on the dry skin of adults and children, so the wired electrodes often fall off from the wet newborn skin. NeoBeat, however, is specifically designed to be used on newborns immediately after birth.
NeoBeat for low-resource countries and beyond
Laerdal Global Health has committed to offer its products on a not-for-profit basis to the countries with the highest maternal and neonatal mortality which have not reached the targets set by Sustainable Development Goal 3. While NeoBeat was primarily designed to a fill a need in low-resource settings, we see that it is also relevant for high-resource settings such as Norway.
NeoBeat featured on NRK https://www.nrk.no/rogaland/stavanger-utviklet-hjertemaler-kan-redde-liv-1.14539773




Many congratulations to the team on this well-deserved honor!
The Team
Joar Eilevstjønn, Øystein Gomo, Ole Terje Østrem, Cenk Aytekin, Lars Roger Solem,
Jan Arild Røyneberg, Marjo Liikanen, Sara Brunner, Helge Fossan,
Sakina Girnary, and Jennifer Gilbertson