First steps: Development of new Center of Excellence in Tanzania
Strengthening medical and nursing education in Tanzania.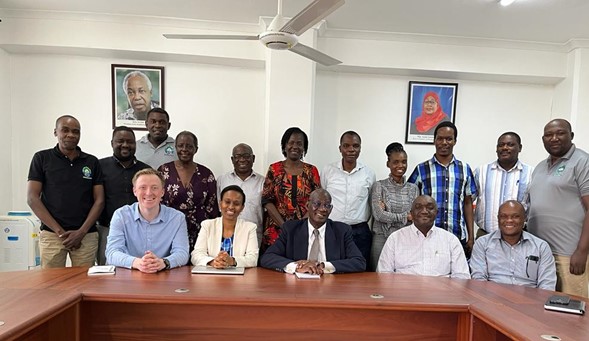 A recent UN Report estimates that globally 4.5 million mothers and babies die every year. Tanzania bears 2% of this burden which amounts to 94,000 lives — mostly from preventable or treatable causes, if adequate care was available.
One way to address this problem is to develop competent, confident, and skilled health personnel. A recent study, "Factors affecting production of competent health workforce in Tanzanian health training institutions: a cross sectional study", shows both a deficit in the development of practical skills of medical and nursing students as well as a gap in the transition between theory and practice. In many cases, real patients become the practice subjects for new graduates. The study also indicates that in most public medical institutions, students report inadequate time allocated for practice and support from the clinical instructors. Strengthening pre-service education for the healthcare workforce is one way to address this.
Strengthening medical and nursing education
Laerdal Global Health (LGH) and Hubert Kairuki Memorial University (HKMU) one of the largest private accredited universities in Tanzania have partnered to develop a strategic plan to establish a skills and simulation lab to strengthen medical and nursing competencies. In 2023, HKMU and LGH signed a Memorandum of Understanding (MoU) as a formal commitment to collaborate on the establishment of a Center of Excellence at HKMU.
"Having a skills and simulation lab which is a Center of Excellence is one of the ambitions in our current strategic plan."
The way forward
The construction of the new medical university in Boko, Dar es Salaam includes a simulation lab slated to be a Center of Excellence.
These labs promote advanced communication skills between different disciplines, interprofessional collaboration, multiple patient management, and teamwork skills. The goal is to use the simulation lab to integrate a competency-based learning strategy to help develop skilled, competent, and confident graduates equipped to improve patient outcomes in Tanzania.
With HKMU leading the efforts, we hope to secure additional funding to equip and operationalize the simulation lab, adopt a competency-based curriculum, and train faculty in simulation-based education with systems in place for long-term sustainability.